Record Mirror: 1st February 1986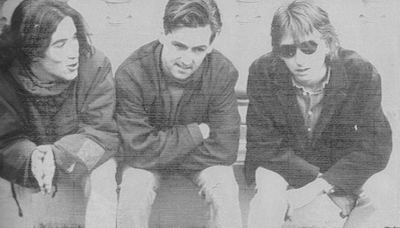 'Bartok's a great geezer'
Debussy and Sibelius are well good too, according to Talk Talk's classical connoisseur Mark Hollis. Roger Morton discovers all this, plus how you can take a year to make an album.
Spring has finally arrived for Talk Talk. I know, I've heard the first cuckoo.
After years of bravely surviving on the crumbs of their huge success in Europe and America, Britain's forgotten pop trio are at last thawing out the charts with 'Life's What You Make It'.
Up at EMI's London headquarters, Talk Talk's lead singer and writer-in-chief Mark Hollis is celebrating with a can of Heineken. While Simon Le Bon and Nick Rhodes smile down from a giant Duran Duran poster, Mark recounts the tale of their own forthcoming album 'The Colour of Spring'.
It's been over three years since you last had a hit in this county with 'Today'. Why has it taken so long?
"I don't know. I haven't really thought about it. All we've been doing for the last two years is a year touring, and a year making an album."
Do you think you've gone wrong somewhere?
"No, of course we haven't gone wrong. It's been really lucky, the way things have worked out. The last album 'It's My Life' did really well abroad, so we were in a position to spend a lot of time making this album. It took a year and two days to make this one."
Is it a good thing to take so long?
"It's good in terms of what we wanted to do. We couldn't have made it the way we wanted in any less time. "You see, when we made 'It's My Life', we had to rely a lot on synthesisers. Now, I do not accept that we are a synthesiser band. Synthesisers mean electronic things to me, and I don't think we have any sort of relation to that. We used synthesisers on that album because from an economic point of view it was the only way we could do it."
What replaces the synthesiser on 'The Colour Of Spring'? Is it more orchestral?
"I wouldn't call it orchestral, no. But it all depends on what you call orchestral, because I wouldn't call it orchestral in terms of an orchestra thing, but you could look at that Gil Evans stuff as being orchestral, where you're talking about a 12-piece orchestra. So it all depends on what you call an orchestra, really."
Exactly. I'm glad we sorted that out.
Almost all of 'The Colour Of Spring' has been written with Talk Talk producer Tim Friese-Greene. How did that come about?
"The only thing I ever knew about him were three records: 'The Lion Sleeps Tonight', by Tight Fit; 'Cry Boy Cry' by Blue Zoo; and Thomas Dolby's 'She Blinded Me With Science'. All those records were really well produced, but they did completely different things. There was no stylisation of sound, and to me, that was the sign of a good producer. So, initially it came from that."
Why was 'Life's What You Make It' chosen as the single?
'For me, the only reason that track was chosen, is that apart from a two minute horn quartet, it's the shortest thing on the album. That's it, really."
This is where the going gets tough. Get ready for a cuckoo waltz around the classics.
"In 'It's Getting Late In The Evening' (the atmospheric B-side of the single) there are a lot of references to things that are in the album, from different areas of music. I like the way that there are things in that which are derivative of Ravel, alongside things which are derivative of the Animals.
I do think that there's an area of classical music which I have an affinity for. The impressionist period, around the turn of the century (You sure about this? - ed.) is something I love very much. I love the textural quality that it has. But equally, there's a hardness to soul music, and gospel music that I like."
A lot of people would think it was a bit pretentious to talk about classical composers.
"That's because they associate with the wrong areas of composers. You see, I don't believe that the minute you draw on classical composers, what you make has got to be pompous."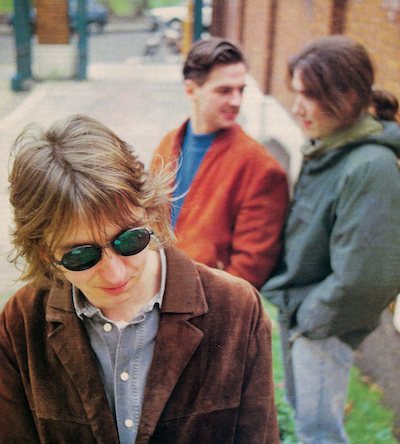 What was the last record you bought?
"It was a Delius thing, with 'The First Cuckoo of Spring' on it, and 'In The Summer Garden'. You see, all I've listened to in the last year is that impressionist area of music. The one person I like more than any out of that lot is Bartok. He did six string quartets which are well good.
"The idea of listening to contemporary music seems quite pointless. I get more than my fair share when we're touring, so I never listen to it when I'm at home."
Do you have an ambition to be a classical composer?
"Oh no, but I would definitely like to do something in terms of writing film music."
But for the moment, you're staying with Talk Talk?
"Yes, but I don't see one as being far removed from the other. A lot of our backing tracks owe debts to things like Delius. "Bartok's a great geezer, and then there's Erik Satie and Debussy, and Sibelius, who I think would fit in there."
Does that mean that if we go and listen to those people, we'll come across little bits of Talk Talk ?
"There are definitely a couple of references to things. But I remember this interview where old Stravinsky was being accused of ripping off some other geezer, and he just said that he loved this composer so much, he felt he was allowed to take from it."
Talk Talk have never been a very fashionable band in this country. Why do you think that is? "I don't know. It really doesn't bother me at all. You see, I'm in the best possible position I could be in, which is having nothing happening in England and things going well abroad. Because of that, we get absolute freedom in making a record, and in terms of my private life, I have complete freedom there as well."
Would you agree that you're a traditional pop/rock band?
"What a horrible term. I think we're traditional in terms of a lot of our values. But we don't restate the past. We are covering new ground. I think it's quite simple. You just look to as many areas of music as you can, take as little as you can from each area, and then with that, hopefully you have something new.
"How I feel about our music is in a lot of ways the same as I feel about our videos. I see them as a reaction against things. That's why it's good working with Tim Pope on videos. With him, it's never a question of whether it's good or whether you like the video. It's whether or not it's different from other people's. If people think it looks like it was made for ten quid, then I'm quite happy with that."
Has your success abroad made you into rich young men?
"Er...potentially I would think I'm well off."
You sound a bit vague about it.
"Yeah, well. I would think I am...potentially would think I am well off.
"I'll tell you what I had for breakfast, if you like."
No, thank you.
Whatever I might think about laying claim to classical influences, using 50 to 60 musicians, and taking a whole year to make an album, the success of 'Life's What You Make It' would seem to suggest that Talk Talk's highly processed pop is exactly what most people want for breakfast. Now I know why Simon and Nick are smiling.
^ go back to top